About Our Scotland Tours
Here at About Scotland, we provide our guests with what are in our opinion, the best tours of Scotland you can have. In each of our private tours of Scotland you'll experience our great country in complete luxury. Each of our tours are in capable hands of one of our knowledgeable & experienced tour guides.
Your tour of Scotland will take place in one our custom Mercedes mini-coaches. And you'll be shown all Scotland has to offer from your own comfortable and private setting.
From filling in the contact form here on our website to your arrival in Scotland. And finally being dropped off at the end of your stay for your flight back home. We want you to have a wonderful experience which is as hassle-free as possible.
We'll make every effort to respond to your initial enquiry within 24 hours. (Usually this is much faster, although please take into account the time difference). From here we'll identify your exact requirements and budget. And we can get to work on putting together your own personalised itinerary. This means you'll know exactly what you'll be getting from your private tour of Scotland long before you arrive.
---

Escorted Tours of Scotland
Our local English speaking tour guides know our county inside out. And will go out of their way to make sure everything about your trip to Scotland is above and beyond what you'd expect. We won't just take you to all the big tourist sights that you'd be visiting on a typical coach tour.
Our private guides go out of their way to avoid the larger crowds where possible. This means you'll get to appreciate the sights, sounds and culture of Scotland. We want you to see Scotland as the locals do. And to get to appreciate what makes Scotland such an incredible country. Most of all, our guides want to bring your tour of Scotland to life, and leave you with memories that will last.
Our guides have spent years exploring Scotland "off the beaten track" to find what we call "hidden gems". Little tucked away areas, that may be lesser known historical sights. Or hidden away areas that only very few know of. These special locations are some of the most spectacular the country has to offer.
These hidden gems are something we pride ourselves on. Why? – none of the larger Scotland tour companies get to visit these spots. Time and time again, we're told that these amazing locations leave our guests with the most fantastic memories of their tour of Scotland.
---
Start Your Tour of Scotland From Anywhere
Here on the website we have grouped our Scotland tours around Edinburgh and Glasgow. But our tours can start from nearly anywhere in the country on request (Scotland's not too big after all). Although we may have to restructure the itinerary to ensure that we make the most of our time together.
So if any of our tours from Edinburgh or tours from Glasgow catch your eye. But you'd like to start your trip elsewhere (such as Stirling), please let us know on the contact form to get in touch. We'll do everything we can to be sure you get the same quality experience you'd get when starting your tour from one of the major cities.
---

Tour Scotland's Magnificent Castles
With jaw-dropping Medieval castles and spectacular Renaissance palaces spread across the country. There would be no reason not to include a few in your tour of Scotland. From the iconic & world famous Edinburgh & Stirling castles. To lesser know castles such as Ravenscraig or Crichton castle.
There are even castles popularised by the TV series Outlander. Such as Midhope Castle (Lallybroch) & Doune Castle (Leoch). If you're a fan of Outlander check out our Scotland Outlander tours.
It's fascinating to see the amount of variety in the architecture and construction that has gone into these fortresses. Not to mention the vast amount of exciting history behind each castle, that our tour guides will be more than happy to tell you all about.
Read more about our Scotland castle tours.
---

Visit Our World Famous Scottish Whisky Distilleries
Everyone knows that Scotland produces some of the finest and most sought after whisky on the planet. But why is 'Scotch' Whisky so good? It's because everything from the temperature of the air. To the quality of the water are incredibly important in the distilling process. And Scotland has, without question, the most fantastic climate to produce the drink perfectly. It's no wonder out tours of whisky distilleries are so popular.
There are a total of five whisky regions in Scotland. (Six if you include the islands, although, officially they're part of the highlands).
Each of Scotland's whisky regions have distilleries that produce their own delicious whisky. Each resulting in distinct flavors & characteristics that make 'Scotch' a pleasure to drink. Even more amazing is that, most distilleries have been family-run for generations. Something that true connoisseurs of the drink appreciate when enjoying their favourite malt.
Over the years we've found that when our guest leave after their one of their Scotland tours. They often tell us their fondest memories are of their visit to one the smaller distilleries.
Drinking Scottish whisky is an a true adventure of the senses, that's impossible to tire of. There are so many exciting new malts & blends of different ages and strengths to sample and enjoy while finding your perfect tipple.
View out selection of scottish whisky tours.
---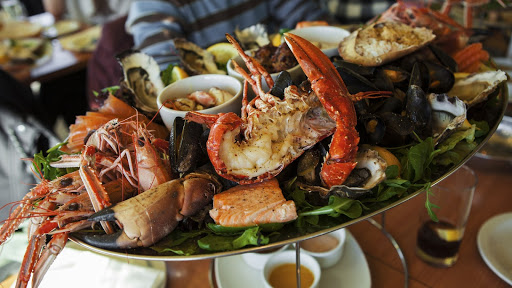 Experience Scotland's Wonderful Food
When it comes to food in Scotland, most people's minds go straight to our national dish, Haggis. And with good reason, Haggis is delicious! It would be a real shame to visit Scotland and never eat a single traditional meal of our Haggis, neeps, and tatties. But there are many more delicacies to try on while on your tour of Scotland.
Scotland's pristine waters don't just provide us with a means of producing our whisky! Scotland is also home to some of the finest seafood on the planet like our beautiful Scottish salmon. And if you think you've tasted Scottish salmon by picking some up from your local supermarket. Trust us when we say, the only way to truly appreciate Scottish salmon is to have the salmon prepared fresh in the country in which it was caught.
When you visit restaurants throughout your tour of Scotland, you'll also find an incredible selection of shellfish. Locally sourced lobster and crab are an excellent choice. But we can guarantee you will not find better mussels or oysters anywhere else on the planet!
Food is a big part in all of our Scotland tours, but you can read more about our Scottish seafood tour.
---
Find a Scotland Tour For You
We hope you've found the information on this page helpful in giving you a better understanding the tours we offer. You can search all of the trips we have available from the Find A Scotland Tour page.
Alternatively jump straight down to the contact form below to send us an enquiry and let us know exactly what your looking for. We'll quickly get back to you and help you arrange your own bespoke tour of Scotland.
We look forward to hearing from you!
– The About Scotland Tours Team.
---